Hassle free Pune to Mumbai Airport Drop
Airport travels have always been a major for travelers especially when it comes to Pune to Mumbai Airport Drop. In the last decade or with the increase in car rental services prices have also risen substantially.
Congestion and traffic leads to not only surge charges but also unavailability of caby when you need it the most.
If you are a frequent travelers and needs Pune to Mumbai Airport Drop quite often then it is best for you to choose a reliable car rental service which will assure you cars for Pune to Mumbai Airport Drop whenever you need it.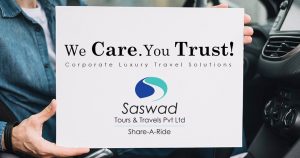 Advantages of having a fixed car service for all your Pune to Mumbai Airport Drops?
Choose the cab you want to travel as per your requirement

You do not have to worry about surcharges

Availability of cars is never a problem

You can trust your travel partner

You can travel at odd hours

The rates are always fixed

You can choose packages as per your frequency of travel

Travel in safety and comfort

Get immediate cabs during emergencies

Don't worry about fuel costs or any other hidden charges
The increase in demand of Pune to Mumbai Airport Drops has lead to a great increase in the number of car services that offer the same. Airport pickup and drop services has seen a great rise over the last 5 years. All travels who started with their own vehicle have now slowly switched to cab services as it is more comfortable and convenient.
Also, with the increase in traffic on Pune to Mumbai Airport route self travel has become an extra burden which travellers are trying to avoid. With the passage of time and increase in demand, the Pune to Mumbai Airport Drop route has seen maximum profits as it is a very high demand area. A lot of small to large car rental enterprises have come up to offer Pune to Mumbai Airport Drop as it is a very high profitable area and more and more passengers are opting for cab services.
The extreme commercialization has seen a major drop in service leaving passengers extremely unhappy and dissatisfied.
If you are one of those passengers who is dissatisfied with the constant increase in price or unavailability of cabs when you need a airport drop from Pune to Mumbai. Worry Not!! We have the perfect solution for you.
Switch to Saswad Tours and Travels as your Pune to Mumbai Airport Drop partner even at the most odd hours.
Why should you choose Saswad Tours and Travels if you are looking for a Pune to Mumbai Airport Drop?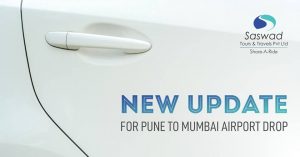 We at Saswad Tours and Travels don't see Pune to Mumbai Airport Drop service as just a revenue model. Our service is there to help people, to go to the Domestic/International Airports, without any hassles from their doorstep to the Departure Terminal. Our airport service helps passengers travel with utmost ease and safety 24*7*365. We provide the most convenient and economical services that will help our pasanges come back to us time and again.
If you have an important meeting and you need a Pune to Mumbai Airport Drop one way cab, Saswad Tours and Travels provides you with reasonable and economical luxury cabs that makes your journey peaceful and hassle free. We provide you best Pune to Mumbai Airport Drop cabs in the city.
Call Saswad Tours and Travels today to get a quote. Happy Travelling!!
Saswad Tours and Travels
Address: Sr.no.623, Prasad Bibwenagar, Near Opp, New DP Road,
Pokale Vasti, Bibwewadi, Pune, Maharashtra
Phone : +91 91756 91756
Email: reservations@saswad.com
Website: https://www.saswad.com/
Car Rental Services in Pune | Pune to Mumbai Airport Drop | Car Hire in Pune | Pune to Mumbai Taxi | Luxury Car Hire Pune